We welcome Helen Yousif to the
FUZE
family! Our freshest face comes with 9 years of experience in the Toronto creative industry and a penchant for internet-famous pets. Naturally, we had a few questions:
Q: If you had a super power, what would it be? 
A: I would want to be able to speak and understand every language. Not the most exciting but SO useful.
Q: If you could do anything in the world, with limitless time and wealth, what would you do? 
A: I love what I do…. so I can't think of anything else? Although, with limitless time….. I would be a professional Netflix watcher.
Q: Is there a series you're really into right now?
A: Obviously Game of Thrones. I like how they ruthlessly kill off main characters, keeping me on my toes because NO ONE IS SAFE! Also recently really into Rupaul's Drag Race (scroll to bottom for more of Helen's fave GIFs from the show).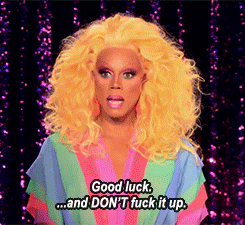 Q: Name one thing most people don't know about you?
A: Well, most people are surprised I like UFC. I have an older brother, so I grew up watching wrestling. I enjoy watching grown men beat each other up, what can I say?
Q: So, we're stalked your social media and it looks like you're a pet-lover. 
A: I have one cat. She's about 8 years old. One day, I was at a friend's place and we heard meowing. She was a kitten then, and trapped in a tree, meowing non stop. We rescued her, but she kept coming back to the house. I took it as it was meant to be since my friend couldn't keep her. I didn't know what to name her, so we kept calling names at her. She looked up when my friend said "Steve" – so Stevie is her name. And yes, I've met
Tuna
and
Lil Bub
.
Q: That's adorable! We see you're a music fan as well. Favourite band of all time? 
A: Definitely Tool. The album that started it all was Aenima. Still one of my favourite albums of all time.
Q: Ok, last one. What are listening to right now? 
A: You're in Love with a Psycho is my current fave single by Kasabian. The whole album is great.
SaveSave